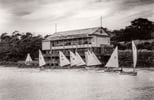 WE HAVE BEEN HERE A LONG TIME
Since racing started on 17th March 1875, there have been annual regattas, racing and cruising on the Tauranga Harbour. On 20th October 1920, the inaugural meeting of the Tauranga Yacht and Power Boat Club was held, nearly 100 members signed up for the first season. The 1920's saw the emergence of small launches as this was the era of "Yacht & Power Boat" clubs; something unique for our club. At this time the new railway had been built right across the front of the town and including a bridge to Matapihi. In October 1924 the club applied to the Harbour Board to build a clubhouse on the inside of the curve near where the railway bridge touched down. The clubhouse was built in 1933 and is now known as the Harbourside Restaurant.
The club continued to flourish with launch racing and yacht racing often being combined in a party to finish off the day. By the mid 30's there were strong fleets of P Class, Z's and Idle Alongs racing from the start tower on the yacht club building, down the harbour and over to the Mount or up the harbour past Otumoetai. The club has National Champions in all of these classes. During the late 40's the lure of sailing overseas was catching on and one of the original voyagers was Bro Benson's "Seaward".
In the 1950's the second storey was added to the growing club, the downstairs area became dinghy lockers. By the early 70's the Harbour Board had started to build the reclamation from sand taken out of the "Cutter Channel" and as they wanted to build a low-level bridge the club agreed to move to the proposed new Tauranga Marina. Building at Sulphur Point commenced in 1982, funded partially by the sale of the old clubhouse and mainly from the volunteer labour army of members who spent a year building the current building. Opened in November 1983, the club has hosted many overseas races, coastal races and National Championships. Over the last few years, there have been further sheds built to accommodate three more water orientated clubs and more storage for the centreboard division. The club currently races centreboarders and windsurfers on Sundays, with Keelboats, Multihulls and Trailer Yachts racing Wednesdays. Women on Water a very successful innovation to introduce women to sailing takes place every second Thursday. Fridays have a fun Friday sail after work and weekend often sees offshore races taking place. Weekday Trailer Yacht cruises also take place sometimes including an overnighter at beautiful locations within the harbour.